Announcing our new CEO DePriest Waddy
The Community Foundation for Northeast Georgia announced it has selected DePriest Waddy as the organization's next President and CEO. DePriest, currently Chief Executive Officer of Atlanta nonprofit Families First, will assume his new role on June 1. 
"I am thrilled that God has blessed me to lead this phenomenal organization," said DePriest Waddy. "Randy Redner has done a masterful job as CEO, and I applaud him and the Community Foundation board for setting the stage to achieve continued growth and help meet the increasing needs resulting from complex family problems."
Waddy has a long history of leadership in the nonprofit sector. He has served almost 30 years in leadership roles at various nonprofits and Fortune 500 companies, including the American Hospital Association, Big Brothers Big Sisters of Metro Atlanta, United Way of Greater Atlanta, Jefferson County Committee for Economic Opportunity, and, most recently, Families First.
"DePriest is an experienced CEO with a strong reputation for leading nonprofit organizations in the Greater Atlanta area," said Dick LoPresti, Community Foundation board chair. "He is well connected in Gwinnett and the region and has a passion for addressing the critical needs in our community. After a nationwide search led by executive search firm Grant Partners, which resulted in many strong candidates, our 10-member CEO transition team made the unanimous choice to have DePriest lead the Community Foundation forward. As we grow and help our fundholders with their journey of generosity, the impact on our nonprofits and community will be tremendous. Our current CEO Randy Redner has done an incredible job of transforming the role that the Community Foundation plays, and his outstanding leadership has positioned the Community Foundation well for our next stage of growth under DePriest's leadership."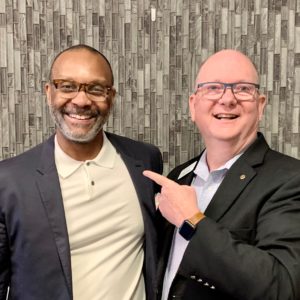 "I am thrilled to have DePriest as the Community Foundation's new CEO," said current CEO Randy Redner. "We first met over seven years ago when our offices were next to each other – he was the Regional Director for the United Way and I was the brand-new CEO of the Community Foundation. Over the years we have developed a great professional partnership, but, more importantly, we have grown a wonderful personal friendship. I have had the privilege of watching his leadership at work for many years and know his heart for the community and those he serves. He is a talented, visionary leader who brings a wealth of nonprofit and corporate experience to this role. All of this makes me very excited for the future of the Community Foundation!"
As CEO of Families First, a 131 year-old nonprofit serving at-risk children and families throughout Georgia, the United States and abroad, Waddy provided visionary leadership to the entire organization. Under DePriest's leadership, he managed over $30M in assets and also raised significant funding, $2M of which will directly impact Gwinnett families. He also led the organization through a new five-year strategic planning process within his first three months as CEO. In addition, he partnered with the board of directors and community partners to promote the Families First brand as an advocate for children and families in tandem with federal, state and regional leadership. When COVID-19 struck, Waddy saw an opportunity to do even more for the approximately 16,000 families the nonprofit services. Under his leadership, Families First designed a new model for "resilient families", which included a new "Navigator" care model. This prevention-based strategy is designed to accelerate families toward a permanent path of stability and success, providing them with a Navigator who engages, listens and connects the family to resources, as well as tracks progress and provides care after program completion. Also under Waddy's leadership, he led a team with a social neuroscientist utilizing data science technology to develop a resiliency assessment tool to determine a family's ability to improve scores in social connectedness, access to basic needs, and optimism, thus moving them from surviving to thriving.
Waddy received his bachelors degree in marketing from The University of Alabama and his MBA from Kennesaw State University. He is a Leadership Gwinnett Class of 2015 alumnus, as well as a Leadership Birmingham Class of 2019 alumnus and Leadership Atlanta Class of 2022. He has been named to the Atlanta 500 in 2021 and 2022, Atlanta Magazine's annual list of the area's most powerful leaders. He was also awarded the Georgia Titan 100 in 2022. He and his wife, Carol, have one married daughter and two granddaughters.