Kathryn Willis: Giving Through Generations
She's a savvy business woman.
She's an award-winning community leader.
She's also a Duluth icon with a big heart for giving back.
Kathryn Willis has served with a broad collection of nonprofits and been honored with 15 community service awards. She has a strong history of giving back through community groups she loves — including here at the Community Foundation for Northeast Georgia.
"The Community Foundation is so good at what they do. The quality of their people, their whole staff and service is just amazing," Kathryn said. "I really trust them because they put your money in the best place for it to be. It's also just easier to give through them. It's seamless."
A fundholder for over 20 years, Kathryn also served as a board member for 15 years.
"As a board member, it was just absolutely amazing to see what the Community Foundation has done over the decades," she said. "They do so much good for the community. They give grants to many nonprofits and encourage the rest of our communities to help. Because they are in the middle of everything, they are able to see what is going on and decide what is best for the community."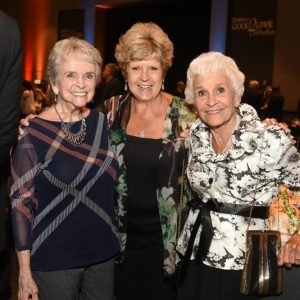 For Kathryn, helping others is a family tradition.
She credits her parents, Calvin and Kate Parson — owners of the storied Parson's Store in Duluth, for sharing the gift of the community and teaching her the importance of giving back.
"Both my mother and father were very generous," she added. "They taught all of us from a very young age the importance of being involved in your community and church and how giving ties into that."
Now in her 90s, Kathryn just recently stepped down from her position on the Community Foundation board. But that's not stopping her from supporting the Community Foundation.
"I've told lots of people about the Community Foundation, and I will keep telling people," she said. "Through the years, I've supported them by spreading the word to tell everybody else how wonderful they are. The person that is generous can gain so much through using the Community Foundation."
Interested in learning more about giving through the Community Foundation? Contact DePriest Waddy at dwaddy@cfneg.org.