Planning for a better future
Why Lawrenceville Mayor David Still and his wife Vicki became Legacy Society members
The Stills roots run deep in Gwinnett. Lawrenceville Mayor David Still's father, Bruce Still, was a newspaper man who helped start what is now the Gwinnett Daily Post. He had a deep love of his community, which he passed on to his family. 
"He just wanted to take care of the community that he grew up in," David recalled.
So when David and his wife Vicki, a Gwinnett County Public Schools speech/language pathologist, began thinking about having children, they also began thinking about how to craft their own legacy. They knew that giving back to their community would be part of that legacy.
One of the ways they eventually decided to do that? Including the Community Foundation in their legacy planning.
David's knowledge of the Community Foundation goes all the way back to its founding.
"I remember first hearing about the foundation [then called the Gwinnett Foundation] when Bob Fowler, another newspaper man who was also part of founding the Gwinnett Daily News, and his family helped start the foundation," David said.
As time went on and the Stills began focusing on ensuring their giving impact continued beyond their lifetime, they decided to join the Legacy Society.
"We are very focused on the Lawrenceville and Gwinnett Community and know that this area is also one of the Community Foundation's focuses. We value that the Community Foundation determines what the most pressing needs of the current time are, so we know that the resources will be used in the most effective way."
Including the Community Foundation in their estate planning through becoming Legacy Society members speaks to the value the Stills place on giving.
"As disciples of Christ, we know it is important to give because we are only the stewards of the gifts of time, talent and finance that God has given us," David said. "We attend Lawrenceville First United Methodist Church, and we love that the focus of our church is serving the immediate community."
For others thinking about their legacy, David and Vicki encourage them to consider giving through the Community Foundation as well.
"If someone has a heart for giving and wants to focus on their community, it allows them to do so in a way that provides more control of where and how their money is placed… and less is given to the federal government," David said.
"For business owners: If you have a giving heart, and you would prefer to be more in control of how your tax dollars are spent, by giving a percentage of your business to the Foundation, you are able to reduce your taxes, increase the amount you give, and direct it to the nonprofits of your choice."
The Stills, who have two children (who have equally wonderful spouses, according to Vicki), also have two grandchildren and one on the way.
"The next generation is our real legacy and we want them to be able to live in a thriving community," Vicki said. "By raising children with a heart for giving to others, we can all contribute to making a community thrive."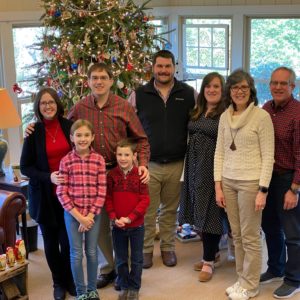 Would you like to know more about joining our Legacy Society? Contact Britt Ramroop at bramroop@cfneg.org or 770-353-9760.