UPDATE: 🎉WOW! YOU DID IT! You helped us raise $115,565 in 7 days through online and offline giving – and the donations are still coming in. THANK YOU! We are so grateful and so are our nonprofits receiving the funds. ❤️
We know the needs will continue to grow over the next weeks and months – which is why we are continuing to raise funds. Our goal is to raise $1 million for our Coronavirus Relief Fund by the end of April. Thanks to the $100k you helped us raise, we currently have raised a little over $800,000. Please continue to share the need and give!
---
Thanks to you, in just FIVE weeks, we've already raised over $800,000 and sent out over $500,000 – to nonprofits like our food banks (Lawrenceville, Norcross, North Gwinnett, Duluth, Southeast Gwinnett, Lilburn, The Place Forsyth, North Fulton Community Charities, just to name a few), healthcare clinics like Good Samaritan and Hope Clinic, shelter providers such as the Salvation Army, Rainbow Village and the Home of Hope and more. We still have a ways to go during the next weeks, though, and our goal is to raise $1 MILLION to help our community during this time. Please give NOW!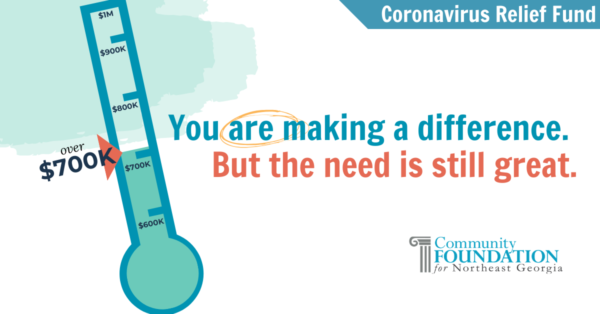 ---
While these are uncertain times, one thing we know for sure is that our nonprofits serving those in need need our help now more than ever. From food co-ops and those providing shelter to organizations helping make sure kids at home have food and needed healthcare is available – and more – this is a critical time. Quarantines help limit the spread of the virus but they also put more burdens on our nonprofits.
During this unprecedented time in our nation, it is not a time to shrink back from helping those around us. HOW we help looks a little different, though, and that's where we have taken initiative by establishing the Coronavirus Relief Fund.
Here at the Community Foundation, we are part of the crucial community conversations happening around our nonprofits. We are sitting in the meetings, participating in the conference calls, and we are seeing firsthand where money can be best invested during this critical time in order to make an accelerated difference in the community. That's why we created the Coronavirus Relief Fund.
ANYONE can give to the Coronavirus Relief Fund and the money from the fund will be distributed to nonprofits meeting critical needs. Giving to the fund allows donors to know that the money they give will be strategically distributed to meet the most pressing needs as they unfold.
A special thank you to these fund supporters!
Hudgens Family Foundation
The Wilbur and Hilda Glenn Family Foundation