Great news from one of our nonprofit fundholders!
On July 12th-14th HoPe trained the 10th Generation of Legacy Leaders: a total of 209 student leaders who will be spearheading 52 HoPe Leadership Chapters with a projected number of 4,000 members across the state of Georgia!
HoPE's legacy leaders experienced 15 sessions with topics ranging from Team Dynamics, Breaking the Mold, Public Speaking, Membership Engagement, Leading in the Midst of the Storm, and Your Legacy. Each session was carefully crafted to enhance skills students will need to lead successful HoPe Leadership Chapters.
Below are some comments directly from students:
"I loved every moment of it and it inspired me in many ways. I never have been as proud as I am to be Hispanic."
"The HYLS provided us with a lot of information that helps us know how to better lead and serve our school. I felt connected with the sessions which made me feel more engaged."
"HYLS was truly life changing in the aspect that now I have the possibility to fit in somewhere, in my school and community."
Learn more at hopestrong.org.
---
We're thankful to see homelessness being addressed – it's one of our focus areas and we've been working to help solve the problem.
Can Gwinnett create a model for addressing suburban homelessness?
"The county has recently developed a new interest in addressing the issue — taking steps it never has before.
It included $500,000 in its 2018 budget specifically to address homelessness. Some who work in social services believe that marks the first time the county has ever allocated a significant sum of money directly from its general fund to the cause. Gwinnett and the United Way also have joined forces to create a new position: a sort of county homelessness czar.
Matt Elder will be the czar, the man tasked with evaluating the current situation and finding a better way to address it. If his efforts prove successful, Gwinnett could chart a course for other suburbs across Atlanta."
---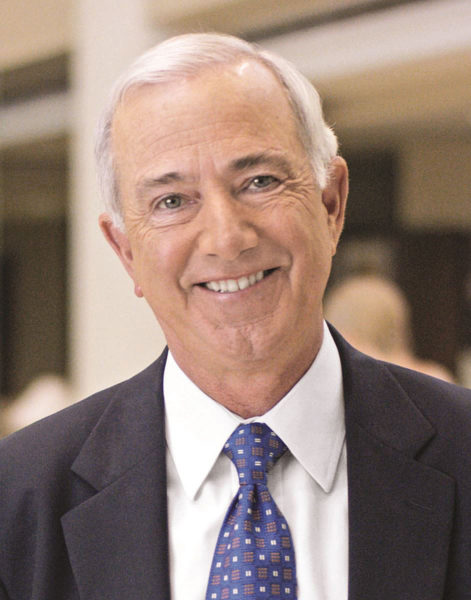 "Phil Wolfe is an outstanding leader who ensures high-quality health care for the community and patients of Gwinnett Medical Center," said GHA President and CEO Earl Rogers. "A forward-thinking leader, he looks toward the future by forming important partnerships to help alleviate the workforce shortage, which has reached a critical juncture in the health care delivery field. He is a most-deserving recipient of this award."
Wolfe, who has been CEO of Gwinnett Medical Center since 2006, was lauded for his work in increasing GMC's role in the community. One of those initiatives was opening the Concussion Institute, which offers enhanced care for children and young adults.
---
StreetWise's backpack day is tomorrow and there's still time to help!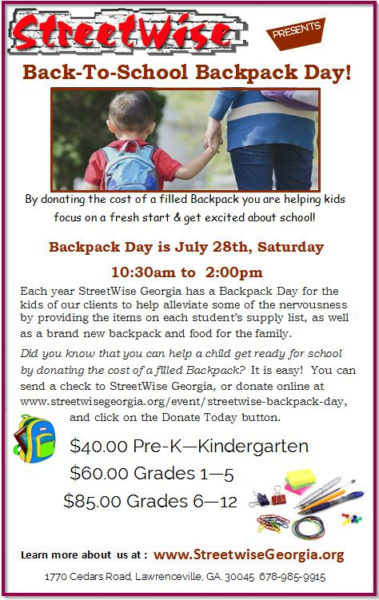 ---
Vote for Jorge!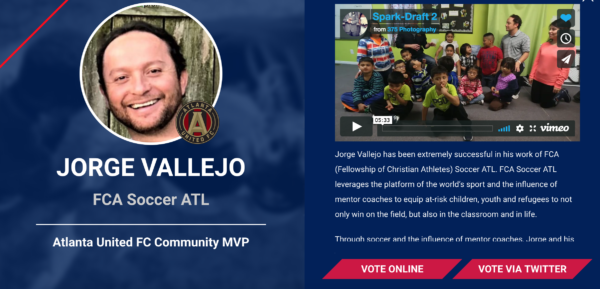 Jorge at FCA Soccer has been selected by Atlanta United FC to represent the city of Atlanta as their 2018 COMMUNITY MVP at the All-Stars MLS game vs Juventus on August 1st, 2018. The award is given to a person making a significant impact in their community through the platform of soccer. 23 national finalists have been selected and the ONE with the most votes by August 1st will receive a $25K towards their charity. Help Jorge ELEVATE the at-risk children and families he and FCA Soccer gets to serve with YOUR VOTE.They need your DAILY vote, it takes less than ONE minute. See instructions below:
FIND: Scroll down and look for Jorge's name, pic and ATL UTD logo and click on it (see pic above to see how it looks)
CLICK on VOTE ONLINE and mark the "I'm not a robot" box and your are DONE
EXTRA DAILY VOTE: If you have a twitter account please vote on tht option as well by clicking on the VOTE VIA TWITTER
DO THIS DAILY until

August 1st

.
---
Peachtree Ridge grad earns award for CARE Closets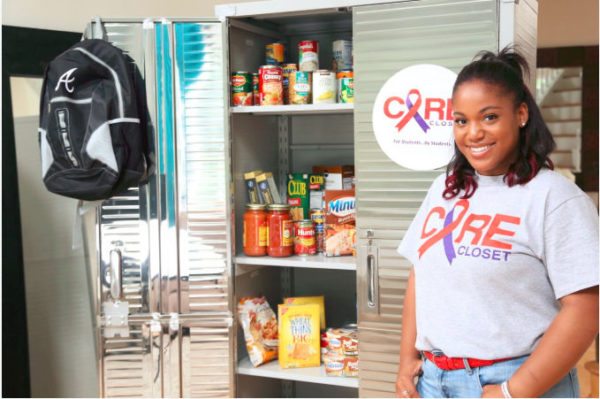 Community service has always been an important part of Lauren Seroyer's upbringing. The Peachtree Ridge graduate has taken what she was taught and used it to impact the local community and beyond by the creation of the non profit family supply bank.
---
Save the Date for our Upcoming Events!
---
See you next week with more good news from our community!