Friday Faves – a Round up of all the Good Things Happening!
We're starting a new weekly blog post called Friday Faves! Each Friday we'll post a round up of good things happening in our community and here at the Community Foundation.
2/9/2018
This came across our Facebook feed. Way to go Gwinnett County, Chairman Nash and Kendall Robinson! Congrats!
This week the RTF team are in Lawrencville Georgia to meet Kendall Robinson a young woman who has taken it upon herself to make sure that her community has access to toilet paper.

Posted by Returning The Favor on Monday, February 5, 2018
---
Our grant writing seminar with Wellspring Nonprofit Resource was a big hit! Here's some of the feedback:
Thank you so much for the wonderful program you hosted today! I found the information shared by Elizabeth Hornbuckle and her colleagues to be a refreshing take on foundation fundraising. Thank you for this inspired perspective on the work I do every day. The Grantmaker Speed-Dating was a wonderful idea and such a helpful way to personalize foundations and the grant-making process.
Jennifer Wells
Assoc. Development Officer, Foundation Relations
Children's Healthcare of Atlanta Foundation
You can't grow tired of hearing it!  I learn so much at your workshops.  The Wellspring Group was fantastic… Especially Elizabeth for answering all my "sidebar" questions.  Thanks for all you do for our community!
Cathy Loew
Norcross High School Foundation
I just wanted to say thank you for the valuable education that you provided to us today. I told one of my board members later today that it was the best investment of a morning that I've had in a long time, second only to the Strategic Planning session of course. 🙂 
Your love for us and investment in our success is evident. I'm so grateful to know all of you and to be a part of this amazing family of individuals and good works. 
Pam Parish
Founder & Executive Director
Connections Homes, Inc
---
One of our nonprofit fundholders, Special Kneads and Treats, was featured in national news! (click on the image to watch the video)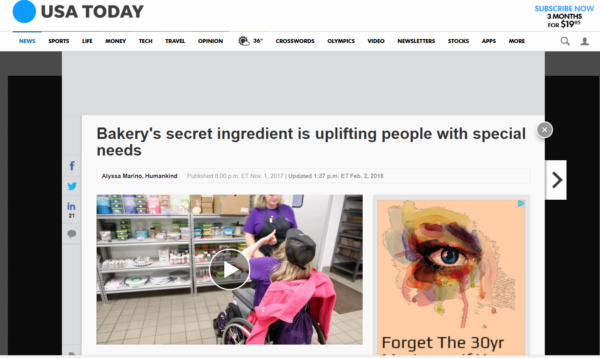 ---
William Edwards from Georgia Power recently stopped by to deliver a check to help us grow our education program. Thank you, Georgia Power!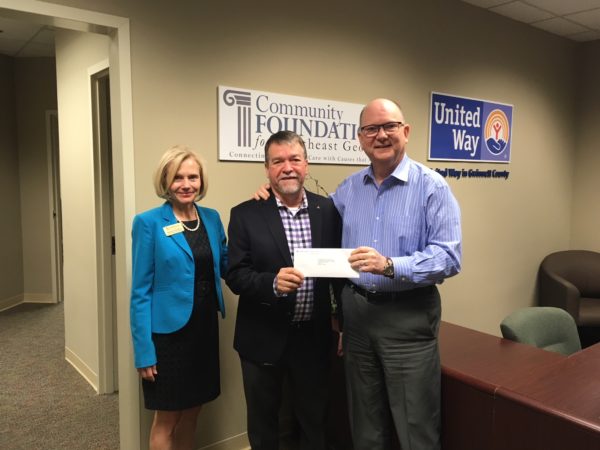 ---
Did you see our newest nonprofit fundholder, PADV? Randy shot a short video with President and CEO Nancy Friauf you'll want to watch.
By the way, women, you may want to attend PADV's 4th Annual Women in Action Forum at Sugarloaf Country Club on February 16th at 8:30 a.m. Attendees will enjoy thought-provoking dialogue from community leaders and a marketplace with a variety of vendors. Register here
That's it for this week. See you next Friday with more great community news!