Meet the young couple practicing philanthropy in the community they grew up in
Their story is all about community.
The Gwinnett community they grew up in – a mile away from each other but never really connecting until after college. Their school community, Berkmar High School, that made a big impact on them. Their family who led by example when it came to giving to the community. 
"Giving was a huge part of my upbringing," Meagan Castillo said. "Not necessarily financially, but always giving anything they could, whether it was their time, their resources or what money they had. And even my grandmother was always known for giving the last dollar she had in her pocketbook to others."
So very early in their relationship, Meagan and Carlos Castillo knew that giving would also be part of their lives. 
"As we've been blessed more, we've been able to give more as a couple and as a family," Meagan said. 
"One thing we really wanted to do was give back to the community we grew up in, especially the school we both graduated from, Berkmar High School," Carlos said. "We still have very close relationships there, friends that we hang out with today."
Meagan's business partner John Upchurch, a fundholder at the Community Foundation and president of Scholastic Images, had initially told them about the Community Foundation. Their financial advisor happened to be Cliff Bray, another fundholder and a member of the Community Foundation's professional advisor network.
"We sat down with Cliff to talk through our desire to give back to Berkmar and keep our giving within the Gwinnett community," Meagan said. "He began connecting all the dots for us and encouraged us to open a fund through the Community Foundation. Initially we thought we'd start with a scholarship fund, but the more we talked through it we realized we didn't want to JUST be a scholarship fund. We wanted to be able to give to other causes as well. The Community Foundation seemed like the perfect fit for us – it would allow us to grow our giving over time.
"Along with education, homelessness is kind of a big thing in our house, as well as animal rescue. We have a kindergartner who we just adopted and we also have four dogs and a cat we inherited last year. Seeing Gwinnett through a parent's perspective has been great and given us a new view."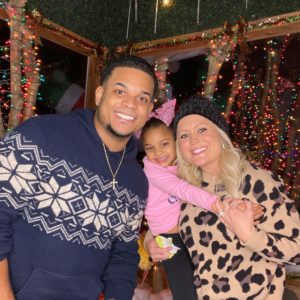 For the Castillos, becoming fundholders at the Community Foundation is allowing them to take the next step on their Journey of Generosity.
"The Community Foundation is an amazing network where you can plug in and choose to give to what you already have in mind, but, once you get to know other people within the foundation and other organizations, you can give with even more purpose," Meagan said. "We love that the Community Foundation has so many resources and that it's personal – there's so many connections. It's not just an ad on the TV for a faceless organization – it's in your own backyard.
"We've worked hard for our money and to be where we're at and we're so thankful. We want to make sure our giving gets poured back into the community that helped build us up to where we are today. We have a lot to attribute to Gwinnett for our successes and our growth as young adults and leaders. So it's extra special to be able to give back to our own backyard through the Community Foundation."
Curious about how we can help you on your Journey of Generosity? Contact Randy Redner at rredner@cfneg.org or at 770-813-3384.