Helping GCPS students see — and succeed
Were you one of those kids in school? The one who had to sit in the front row to see the board? Do you remember squinting to read or to see things at a distance? Maybe your teacher told your parents what was happening and you ended up at the eye doctor. Or maybe your school had an eye doctor come once a year to do vision screenings and that's when you got glasses.
Some things don't change much. Today, more than 1 in 4 students naturally need glasses. But did you know that over 100,000 students in the Atlanta region need an eye exam but lack access to basic vision care?
Enter Vision to Learn. Vision to Learn provides free eye exams and glasses to kids in low-income communities. When the pandemic hit, Vision to Learn was servicing Atlanta City Schools. When the school system went completely virtual, though, it provided an opportunity for Vision to Learn to bring their program to Gwinnett County, thanks to key partnerships and collaboration. Along with the Community Foundation, the Primerica Foundation and the Hudgens Family Foundation helped provide the funding that made it possible to bring Vision to Learn to Gwinnett.
"We typically see that about 33 percent of students fail a vision screening and are referred for an eye exam," said Dr. Peter Silberman, Director of National Operations for Vision to Learn. "This year we have screened over 6,000 students in GCPS and seen between 35-45 percent failure rates. There is preliminary evidence that quarantine and increased screen time due to COVID has led to increases in pediatric myopia, and so far that has been borne out in our service data.
"COVID has really underscored the importance of neighborhood schools as a critical hub for services, particularly for students in underserved communities. One of the hidden consequences of the switch to virtual instruction is that a wide range of resources and services traditionally based at schools are unavailable this year to kids in need. Districts around the country have worked very hard to find ways to provide the most critical resources, including food, devices and internet to students and families, but a wide range of health, academic, and other services have not reached students."
According to Dr. Silberman, by the end of the year their GCPS partnership will have allowed them to help students at the ten most economically disadvantaged GCPS schools. Vision to Learn will have provided well over 6,000 vision screenings, 2,200 eye exams, and 1,800 pairs of prescription eyeglasses to students in need, free of charge.
"Students provided glasses through Vision To Learn gain, on average, the equivalent to an additional month of learning compared to students who fail a vision screening but are not provided glasses," said Dr. Silberman. "For the lowest-performing quartile of students, the gains associated with providing glasses are equivalent to an additional three months of learning. Vision To Leran's program achieves greater impact than other common educational interventions such as charter schools, 1:1 technology, and extended day programs, at far less cost.
"The consequences of uncorrected vision issues are grim. VTL catches conditions like amblyopia and strabismus that can lead to permanent vision impairment or blindness. Academically, students with uncorrected vision problems are more likely to fail at least one grade, and to engage in antisocial and delinquent behavior. In fact, up to 70% of juvenile offenders have uncorrected vision problems."
Thankfully, for many students in Gwinnett, they now have the vision resources they need. Here is just some of the feedback Vision to Learn has received from students.
"I like my glasses because now I can see!" 1st Grade Student at Graves Elementary School
"I like the design, color, and best of all I can see better on the board!" 4th Grade Student at Graves Elementary School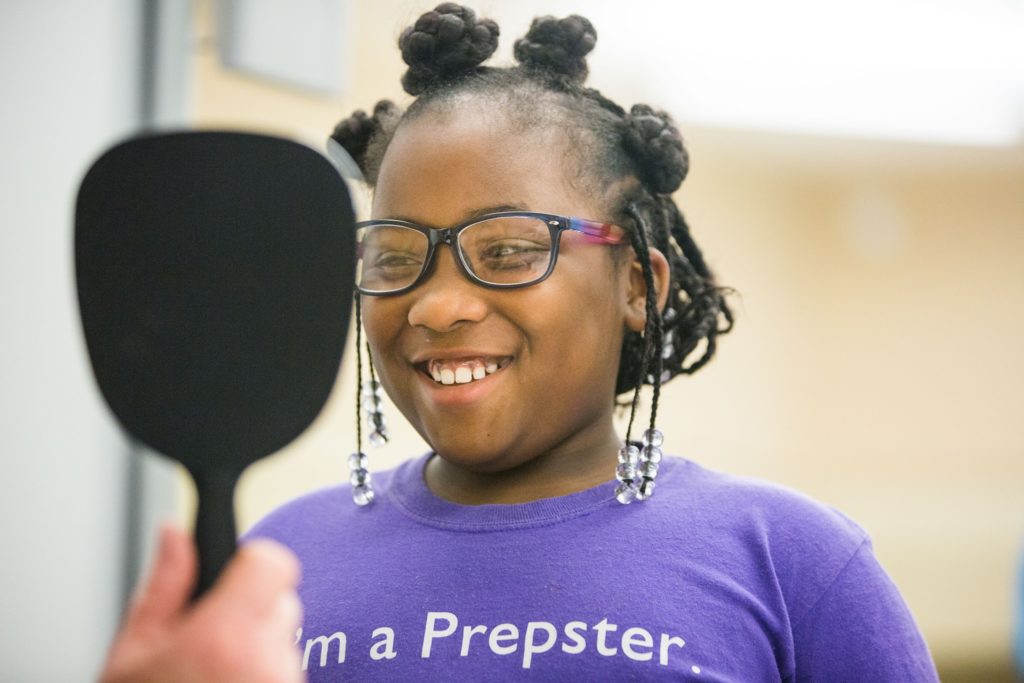 Not only are students elated but so are school staff.
"Thank you Vision to Learn! You have made a huge impact on our students and school family! We are so grateful to have received this opportunity to provide FREE eye exams and glasses for our students! Our parents have expressed how much this has improved their children's self-confidence and ability to perform in class. We cannot express enough what an AWESOME program Vision to Learn is!" Graves Elementary School Community
For Aaron Lupuloff, senior executive director of the Gwinnett County Public School Foundation, helping bring Vision to Learn to Gwinnett has resulted in many benefits.
"If you can't see, you can't read. Vision to Learn really is helping children that otherwise could not afford eye exams or glasses," Aaron said. "The work they are doing is fantastic."
None of this would have been possible though, without collaborative effort. That collaborate effort has happened time and again during the pandemic, in various ways throughout Gwinnett and beyond.
"We are tremendously grateful to all our partners, particularly to the Atlanta Hawks Foundation, GCPS, and the Community Foundation," said Dr. Silberman. "Our partnership with GCPS came about very quickly in the fall because of the efforts of Dr. Tanisha Parker and the district staff who helped coordinate and facilitate our services at GCPS. We would not have been able to launch this partnership without the longtime commitment and support of the Atlanta Hawks Foundation, which helped bring Vision To Learn to Atlanta and has been our biggest support since day one. Within a matter of weeks after we began services in GCPS, we had support from the Community Foundation and Hudgens, with Primerica and the GCPS Foundation following shortly thereafter, thanks in large part to Randy Redner's work to galvanize the philanthropic community behind this partnership.
"We also owe a special thanks to Ken Zeff at Learn4Life for connecting us to Randy Redner and everyone at the Community Foundation. We could not have launched or sustained our partnership in GCPS without the critical support of our partners."