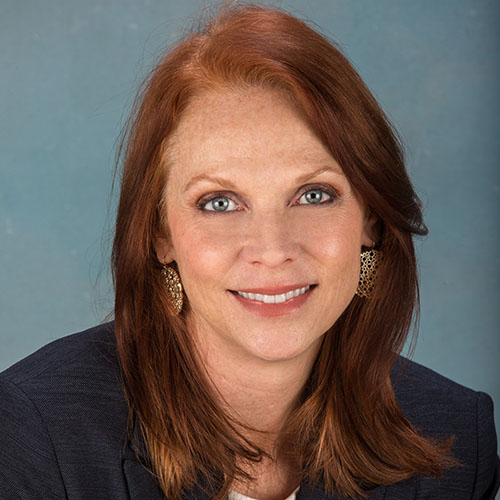 Jill Edwards, senior vice president at United Community Bank, loves her community and it shows. From her career to her involvement on various boards, she's all about service. Learn more about one of our newest board members in this Q&A!
CFNEG: Why is being involved in the community important to you?
Jill: I'm increasingly realizing that my ever-growing involvement in the community is rooted in my past and making sure I give back. My first active participation with a non-profit organization started in my 20s when I began working with the Metro Atlanta Chamber of Commerce. I'm a relationship person so this collection of people and their businesses was a perfect foundation for me to build upon. Doors were opened for me in banking that would not have been opened if I had not been an active participant with the chamber. As my career grew to positions of leadership within my bank of employment, so did my desire to work with the charitable organizations in my community that were giving back in ways that aligned with my thinking. At United Community Bank, my efforts in the community are supported by my employer which makes it even better!
CFNEG: What do you want people to know about the Community Foundation?
Jill: The mission of the Community Foundation is to strengthen the communities it serves by providing leadership, addressing community needs and assisting individuals and organizations with their charitable giving. Three years ago when a new nonprofit that I am the treasurer for, Across The Bridge, was trying to establish itself in the community, I made sure I set up a meeting with Britt and Randy at the Community Foundation to be sure we did everything correctly. We needed help with our mission statement, our plan to acquire funding and a million other little things. Now, not even four years later, ATB has assisted over 70k people in their road to recovery. Without the early assistance of the Community Foundation, I don't believe ATB's numbers would be so impressive. The Community Foundation also provide free workshops and educational seminars on various topics that affect nonprofits. The value of these is not only in the material given but in the gathering together of like-minded individuals and organizations. I know that every organization I work with has been assisted in some capacity by the Community Foundation.
CFNEG: What do you hope to accomplish as a board member?
Jill: My skills are in the area of finance and connecting people. I believe I can assist the community foundation in both of these regards. Under DePriest's leadership, there are audacious plans for growth in the surrounding communities. I believe my talents will assist with this effort.
CFNEG: What other causes/organizations are you passionate about?
Jill: My original involvement with the Atlanta Chamber led to my involvement with the Gwinnett Chamber. What I love about chamber is the events and, more importantly, the event around the event. If I'm going to a lunch, for example, I make sure I get there early and allow time afterwards – that's where all the relationship building occurs! The same is true for our great nonprofits in our community. We build off of each other. I'm often asked "How do I have time to do so much?" The answer is that the organizations tend to overlap with each other and, therefore, adding to the list of nonprofits that I affiliate myself with isn't like starting from scratch. There are great synergies in our community with regard to our charitable organizations which leverages my time and ability to involve myself.
The first board I sat on was the Gwinnett Place CID which opened my eyes to how much a business district affects its community and how it just wasn't left to chance. The economic development efforts around the CID led to more interaction with the Gwinnett Chamber, joining their board and now chairing it! My work with Partnership Gwinnett (the economic development arm of the chamber) then led to joining the Gwinnett Coalition board as its Treasurer. In many ways, I view the Coalition as the community support arm of Gwinnett County which obviously overlaps with many other causes in the market. I've already mentioned how the Community Foundation assisted in getting Across The Bridge off the ground, turning it into a thriving organization connecting those seeking recovery from addiction with the resources they need to recover and heal. Finally, last but not least, I joined the board of Rainbow Village shortly after Melanie joined the organization. What I think is uniquely interesting about RV is that I was introduced to Rainbow and became the organization's banker 15+ years ago at the behest of Barbara Howard who was one of the early, huge supporters and board members of the Community Foundation. She was one of my all-time best mentors and role models so this is a bit like going full circle by my joining the Community Foundation's board. I am so excited!
CFNEG: What do you love about your career?
Jill: I've been doing pretty much the exact same thing for 36 years – wow, how can it be? I've always been on the Commercial Lending side of banking. I love managing in this space because I'm creative. If there's a way to get something done, to get a deal over the finish line, my involvement can often help. Having done something for so so long, I know what should be done and what shouldn't be done. And I know a million little tricks to get a deal done – both on the borrower's side and on the bank's side. No two deals are alike and that's what keeps it fun and still interesting to me. But, at the end of the day, what I love the most is the people: the people I work with and my customers!
CFNEG: Tell us about your family
Jill: I am married to the love of my life and best friend, Greg, for the past 27 years. We have two kids who aren't kids anymore. Charlie, our son, just graduated from Mercer with his MBA in Finance and now has a REAL job as an accountant for a large fintech company in Atlanta. Emily, our daughter, is a senior in high school and will likely be going to Georgia Gwinnett College for Cinema and Media Arts Production. I am blessed!
CFNEG: What do you enjoy doing outside of work?
Jill: I'm very athletic so I like to play a sport most every day. I love tennis, bike riding, yoga and long walks! Additionally, I've been making jewelry, affectionately called jillery, since 1990. Most of all, I love spending time with friends!
CFNEG: One book or podcast you think everyone should read/listen to?
Jill: The Big Book of Alcoholics Anonymous should be required reading for everyone, especially anyone managing people. Addiction is all around us and in so many forms. If your eyes aren't open to what it looks like and how to support people going through trying times, we are blissfully unaware. I'll wager a guess that many people you've spoken with just today have an issue somewhere in their lives around addiction. It's everywhere!