Open Doors, Open Hearts – A Lifetime of Generosity
Carol S. Camp's door was always open to family and friends. No need to even knock – you'd just walk right in. If someone needed something, she and her husband James would give it. Even if it was literally the shirt off of his back.
They were known to slip money to the people around them – the lawn guy, the waitress, it didn't matter who they were. If the Camps could help, they would.
"More than anything else I can remember, they were always available for anyone who had a need," said her grandson Jim Hollandsworth, Executive Director of the Path Project. "I remember seeing them give cash from their pockets to neighbors and co-workers in need without asking anything in return. I was a kid but this stuck out to me as unusual but very cool. I remember thinking that I wanted to be like them one day."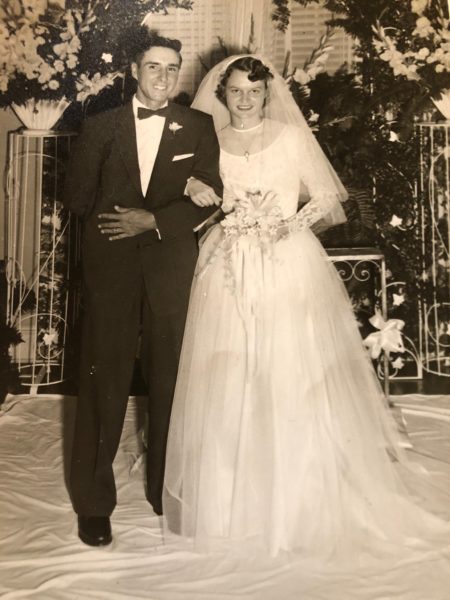 Carol and James both grew up in working-class families and it was the success of the family business that allowed them to have more financial resources than their parents. But they never boasted about it, according to Jim. They always lived simply and put others first.
"Throughout their 53 years of marriage, they were perhaps the greatest influences on how I want to live my life – generously, simply, and in community with family and friends. Their house in Snellville is what I think of when I think of home," Jim said. "I have tons of memories of their house being a safe, welcoming place."
Carol was the daughter of Edwin and Mable Snell, who founded the construction company E.R. Snell. Her family's roots trace back to the beginning of Snellville, named after her ancestors. Both Carol and James worked for E.R. Snell for many years; Carol in payroll and James in a variety of roles before they retired. They had three children – their oldest is Jim Hollandsworth's mother.
"My parents divorced when I was 10 and I spent a lot of time with my grandparents. They never talked about their money or where they gave. They were just selfless and spent their time focused on their family and others," Jim said. "I do remember that they always gave to the church – Snellville United Methodist was a big part of their lives.
Little did Jim know that his grandparents giving went deeper than he imagined. Years ago, the Camps began working with Jeff Manry, founder of Sugarloaf Wealth Management, who was also board chair of the Community Foundation, then known as the Gwinnett Foundation. Jeff helped them with their estate planning, which included setting up a charitable remainder trust through the Community Foundation. The CRT, an irrevocable trust, created an income stream for the Camps during their lifetime and allowed them to donate the remainder of the assets to charity.
When Jeff retired, Adam Wilson began working with the Camps. As life would have it, Adam and the Camp's grandson Jim were high school friends and Adam had spent time at the Camps throughout his youth.
"They were always very charitable people," Adam said. "When I got to know Carol in a professional capacity, as her advisor after her husband passed away, I saw that her heart was always all about her family – her kids and grandkids. Our conversations weren't about how could she get more or have more but were basically about how much money did she have and how much of it could she give away and still keep enough to live on.
"When they set up their CRT (back then the estate planning laws were different and the limits were much lower), they used some highly appreciated stock they had. That allowed her to receive an income from the CRT during her lifetime and then give the remaining money to the Community Foundation when she passed away."
As Adam recalls, any causes that were close to her kids and grandkids were important to her. When Jim worked at Graystone Church, Carol became a supporter of the church. When he and Melinda started the Path Project, she immediately began supporting it.
"My conversations with her, many times, were cautioning her not to give away too much," Adam laughed. "She just really wanted to see her kids and grandchildren enjoy and benefit from what she had."
For Jeff and then Adam, Carol's CRT and how it was executed played out as a textbook estate planning case study. She was already charitably inclined, trusted Jeff and then Adam to manage her money well, and was willing to part with her money in order to have a future income stream and leave a charitable legacy, in this case to the Community Foundation.
Though Carol passed away in early 2018, the same values she lived during her lifetime are being remembered even now. She left a significant amount to the Community Foundation, which went into the Good2Give Community Fund, allowing her to keep giving to her community and causes that matter. Each year, the Community Foundation grants out money from the Good2Give Community Fund to numerous deserving nonprofits. Carol, and many others who've given to the fund, have enabled hundreds of thousands of dollars in grants to be given out – all to address the real needs of people in our community.
"She was simple, unassuming and loved having people around her. She just loved being around her family, having a houseful and cooking for them," Jim said. "My main memories of her center on food – her homemade biscuits and chocolate cookies were my favorite and she spent hours teaching all of us how to make them. Even my kids learned from her how to make her homemade cookies.
"For her, her life and her giving was just all about taking care of the causes that were close to her and that were close to her family. Whatever she could support she wanted to."