President and CEO Randy Redner Stepping Down
The Community Foundation for Northeast Georgia announced today that President and CEO Randy Redner will be stepping down from his role later this year. 
Randy joined the Community Foundation in September 2015 as executive director. Since then, Randy's leadership, vision and drive has enabled the Community Foundation to achieve record results. Under Randy's guidance, the Community Foundation has, in the last three years:
Given away $20+ million, for a total of $80+ million since 1985

Welcomed more than 100 new funds since 2017

Grown assets under management to more than $51 million

Created a Legacy Society with 27 founding members and future gifts of an estimated $20+ million

Helped launch initiatives in four key areas: homelessness, healthcare, early learning and food insecurity.

Created the Good2Give Celebration, which has raised over $1 million in the last four years and hosted more than 2,500 event goers

Added $1.4 million to the Good2Give Community Fund 

Held monthly education events, including this year's Nonprofit Academy, attracting more than 2,500 attendees during the last four years.
After many accomplishments during his 40+ year career, Randy desires to transition to more of a supporting role within the nonprofit sector. Both he and his wife LaNita would like to spend more time with their children and grandchild.
"The Community Foundation's team and board of directors has nothing but the highest praise for Randy's work and leadership during his time here, and everyone would like to have him stay engaged at a certain level," said Dick LoPresti, board chair of the Community Foundation. "We are working with Randy towards his continued involvement in the Community Foundation and in Gwinnett, whether that is within a consultant, volunteer or coaching role.
"Randy is one of the most effective leaders I have ever known. With a small but dedicated staff, he has transformed the role the Community Foundation plays in addressing the needs in our community. From educating our nonprofit leaders to guiding our fundholders through a 'journey of generosity' to collaborating with United Way and Gwinnett Coalition to address specific community needs, he has had a huge, positive impact on our community."
Immediate past board chair and current board member Sandra Strickland also has high praise for Randy's leadership.
"As a board member I have had the opportunity these past five years to serve under one of the greatest leaders in this community," Sandra said. "As past board chair of the Community Foundation for Northeast Georgia, I cannot even begin to praise him enough. Randy puts God and his family first and then everything else he gives to the Community Foundation's staff and board. He keeps us moving forward and pulls out the best in us to make things happen for the good of this community. What a difference he has made in my life by encouraging me with his words and wisdom. I am going to miss him saying after our meetings 'Let's go do it!'." 
For Randy, his time at the Community Foundation has provided many memorable moments and achievements.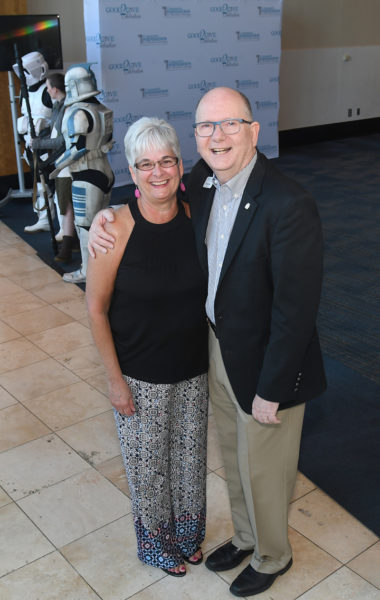 "Leading the Community Foundation has been a lot of fun; a great ride," Randy said. "A year ago, in early 2019, I told the executive board that I would be stepping down in 2020, so it's a decision I have given a lot of time and thought to – one I did not make lightly. I also wanted to allow plenty of time and actively participate in the change of leadership. I'm not retiring, just 'career downsizing' as I've heard some call it! Finally, I have total faith in God about what's coming next and am excited to see where He takes me."
Prior to joining the Community Foundation in 2015, Randy spent 20 years in the corporate world before transitioning to the nonprofit sector. In 2000, he became the Executive Director of Habitat for Humanity North Fulton, leading that organization to national recognition. Then, in 2005, Randy had the opportunity to move to the American Cancer Society. While at ACS Randy was responsible for the largest Relay For Life event in the world, growing the Gwinnett Relay to over $2.5 million. These successes led Randy to be promoted to vice president for Georgia, overseeing all income, mission and advocacy outreach for ACS from 2010 to 2013. In 2013 Randy had the opportunity to move to The United Methodist Children's Home to help rebuild their fundraising, marketing and communications and volunteer programs.
Randy has always been heavily involved in other organizations and is currently on the board of the Gwinnett Chamber of Commerce, United Way, Gwinnett Medical Foundation, GCPS Foundation and the Primerica Foundation. He's also immediate past president of the Duluth Rotary.
A Valdosta State University alumnus, Randy has an MBA from Mercer University. He and his wife LaNita have two grown children, Katie (married to Erik) and Kyle (married to Melissa), and one grandchild, Emsley.
During the remainder of 2020, Randy will be working with the Community Foundation's CEO transition team to ensure a smooth leadership transition. The CEO transition team consists of the following Community Foundation board members:
Bill McCargo – Team Lead, Community Leader

Dick LoPresti – Community Leader, Community Foundation Board Chair

Jay Dennard – COO at Northside Hospital Duluth

Mike Levengood – Law Office of J. Michael Levengood, Community Foundation Board Secretary

Tammy Shumate – Director of Development at Brand Mortgage, Gwinnett Chamber of Commerce Board Chair
More information on the open CEO position can be found at cfneg.org/careers.